Tile
Tile roofs endure some of the harshest elements in the world, yet concrete and clay tiles have still been proven to withstand wind, rain, hail, extreme heat and even fire. This strength allows tile manufacturers to offer some of the longest warranties available in the roofing industry.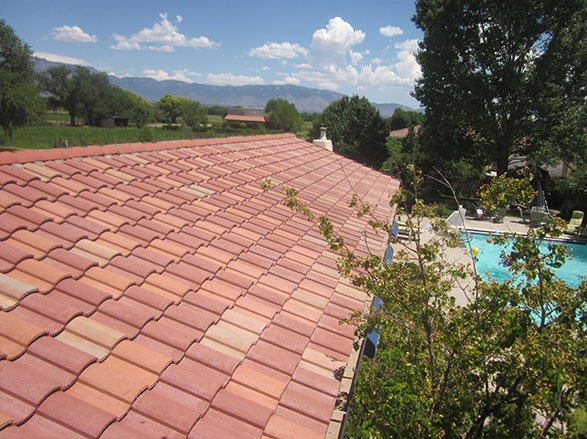 Benefits of Concrete & Clay Tile
Tile profiles range from flat to barrel-shaped, and each style adds a unique appearance to a roof. The color options for clay and concrete tile range from a single color to a compilation of several hues, with hundreds of colors to select from. Tiles may be glazed, or special textures may be added into the surface treatment to create looks that simulate wood or slate.
Extremely durable and long-lasting
Variety of dimensional profiles and sizes
Dozens of designer colors to choose from
Colors and sizes may be mixed for dramatic impact
Low maintenance
High resistance to wind and hail
Fireproof
Enjoy the Low Life Cycle Cost of Tile
Tile roofing may also be a better insulator than some steep-slope roofing materials, allowing for better air circulation and reduced heat transfer into a building. This results in lower air conditioning costs in our desert climate.
Call for a FREE Estimate from the Best New Mexico Roofers
Estimates have always been free at Goodrich Roofing, because we want to be your residential and commercial roofer of choice. Give us a call today at (505) 219-4450 or submit an online request form on the right. We'd be pleased to schedule a convenient time to meet with you and discuss your needs.