Metal
With a proven track record for performance, metal roofing gives architects and owners a wealth of options for a roof, from system design to metal type to color choices. Metal offers exceptional strength, stability and fire resistance. For these reasons, approximately half of all low-slope commercial, industrial and institutional buildings constructed in recent years include a metal roof.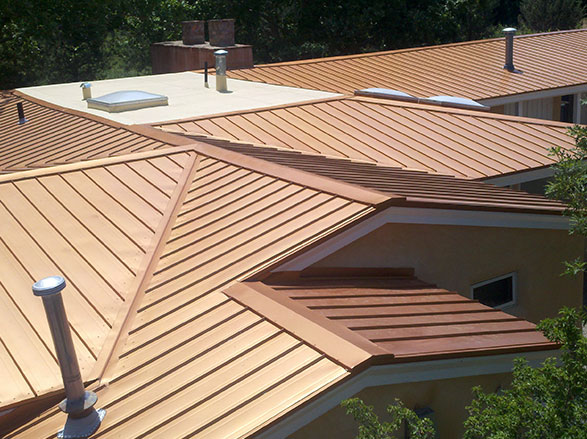 Benefits of Metal Roofing
Metal is becoming increasing popular for residential applications too. No matter your current roofing style or color, there's a comparable metal roofing option! In addition to the standing seam metal roofing systems commonly found on commercial buildings, modern metal roofing is also available in eye-catching profiles that simulate shingles, slate and shakes.
Broad range of styles and colors available
Lightweight
Very low maintenance
Available as part of a fire-, wind- or hail-rated roofing system
Reflective coatings may save up to 40% in cooling costs
Environmentally-friendly and recyclable
Get Energy Savings with Cool Metal Roofing
Increasingly, Albuquerque homeowners are seeking energy-saving building components that also promote environmental responsibility. Metal roofing definitely fits the bill. It can be finished with "cool" coatings that not only reflect solar energy, but also cool your home by reemitting most absorbed solar radiation. Metal roofing contains recycled material and can be recycled at the end of its service life for the ultimate in environmental and economic sustainability.
Call for a FREE Estimate from the Best Albuquerque Roofing Company
Estimates have always been free at Goodrich Roofing, because we want to be your residential and commercial roofer of choice. Give us a call today at (505) 219-4450 or submit an online request form on the right. We'd be pleased to schedule a convenient time to meet with you and discuss your needs.