License & Insurance
Goodrich Roofing is fully licensed by the State of New Mexico (construction license #3221), and has been since 1946. We have the oldest construction license in the State of New Mexico! For the protection of customers and property, we carry comprehensive liability insurance providing coverage of up to $2 million, as well as workers compensation insurance. These coverages give the assurance that should an accident or damage occur on your property while our crews are at work, you will be protected from financial liability.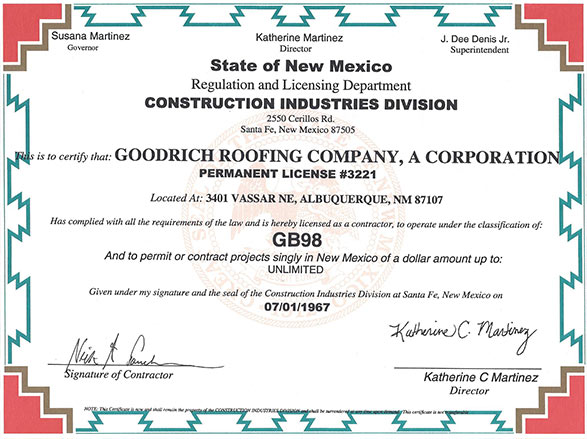 View our GRC License and Certificate of Liability Insurance.
Call for a FREE Estimate from New Mexico's #1 Roofer
Estimates have always been free at Goodrich Roofing, because we want to be your residential and commercial roofer of choice. Give us a call today at (505) 219-4450 or submit an online request form on the right. We'd be pleased to schedule a convenient time to meet with you and discuss your needs.